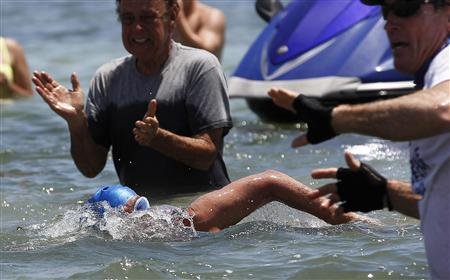 Diana Nyad arriving in Florida (Photo: REUTERS/Andrew Innerarity)

I spent the past weekend quietly contemplating third acts, those moments when the extraordinary emerges from someone in their later years. Like Diana Nyad's momentous swim from Cuba to Florida—110 miles—at the age of 64. She became the first person to make that swim without a shark cage. This was her her fifth attempt.
Her mantra during this marathon: Find a way. Which, after several attempts in her many years as a long distance swimmer, was exactly what she did.
In Richard Rohr's book, Falling Upward: A Spirituality for the Two Halves of Life, the 70-something Franciscan priest shares some of his wisdom on the progressions that happen in a life:
There are at least two major tasks to human life. The first task is to build a strong "container" or identity; the second is to find the contents that the container was meant to hold…

We are a "first-half-of-life culture," largely concerned about surviving successfully…But it takes us much longer to discover "the task within the task," as I like to call it: what we are really doing when we are doing what we are doing.
What that may be can sometimes surprise us. As Rohr points out, "the opposite of rational is not always irrational, but it can also be transrational or bigger than the rational mind can process: things like love, death, suffering, God, and infinity are transrational experiences."
On view at the American Art Museum in Washington DC is a memorable example of a project that is both third act and transrational: James Hampton's Throne of the Third Heaven of the Nations' Millennium General Assembly.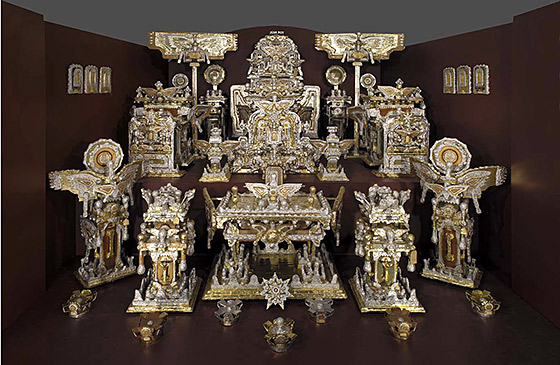 James Hampton's Throne of the Third Heaven of the Nations' Millennium General Assembly
Untrained as an artist and working most of his life as a janitor, Hampton took on this project and made it his life's work. From the museum's website:
James Hampton's entire artistic output is this single work which he called The Throne of the Third Heaven of the Nations' Millennium General Assembly. Hampton worked for more than fourteen years on his masterwork in a rented garage, transforming its drab interior into a heavenly vision, as he prepared for the return of Christ to earth. The Throne is his attempt to create a spiritual environment that could only have been made as the result of a passionate and highly personal religious faith.

The Throne and all of its associated components are made from discarded materials and found objects consisting of old furniture, wooden planks and supports, cardboard cutouts, scraps of insulation board, discarded light bulbs, jelly glasses, hollow cardboard cylinders, Kraft paper, desk blotters, mirror fragments and electrical cables and a variety of other "found objects," all scavenged from second-hand shops, the streets, or the federal office buildings in which he worked. To complete each element, Hampton used shimmering metallic foils and brilliant purple paper (now faded to tan) to evoke spiritual awe and splendor. Hampton's symbolism extended even to his choice of materials such as light bulbs, which represent God as the light of the world.

Praised as America's greatest work of visionary art, Hampton's Throne reveals one man's faith in God as well as his hope for salvation. Although Hampton did not live to initiate a public ministry, the capping phrase "FEAR NOT" summarizes his project's universally eloquent message.
Passion and vision are in abundance in this work, conducted in privacy and without an audience. (Hampton's family had no idea The Throne existed until after he died.) Like the extraordinary body of work discovered by Henry Darger's landlord after his death, Hampton's Throne beguiles me with its quirky, self-defined, alternative—and magical—world.
A few more photos: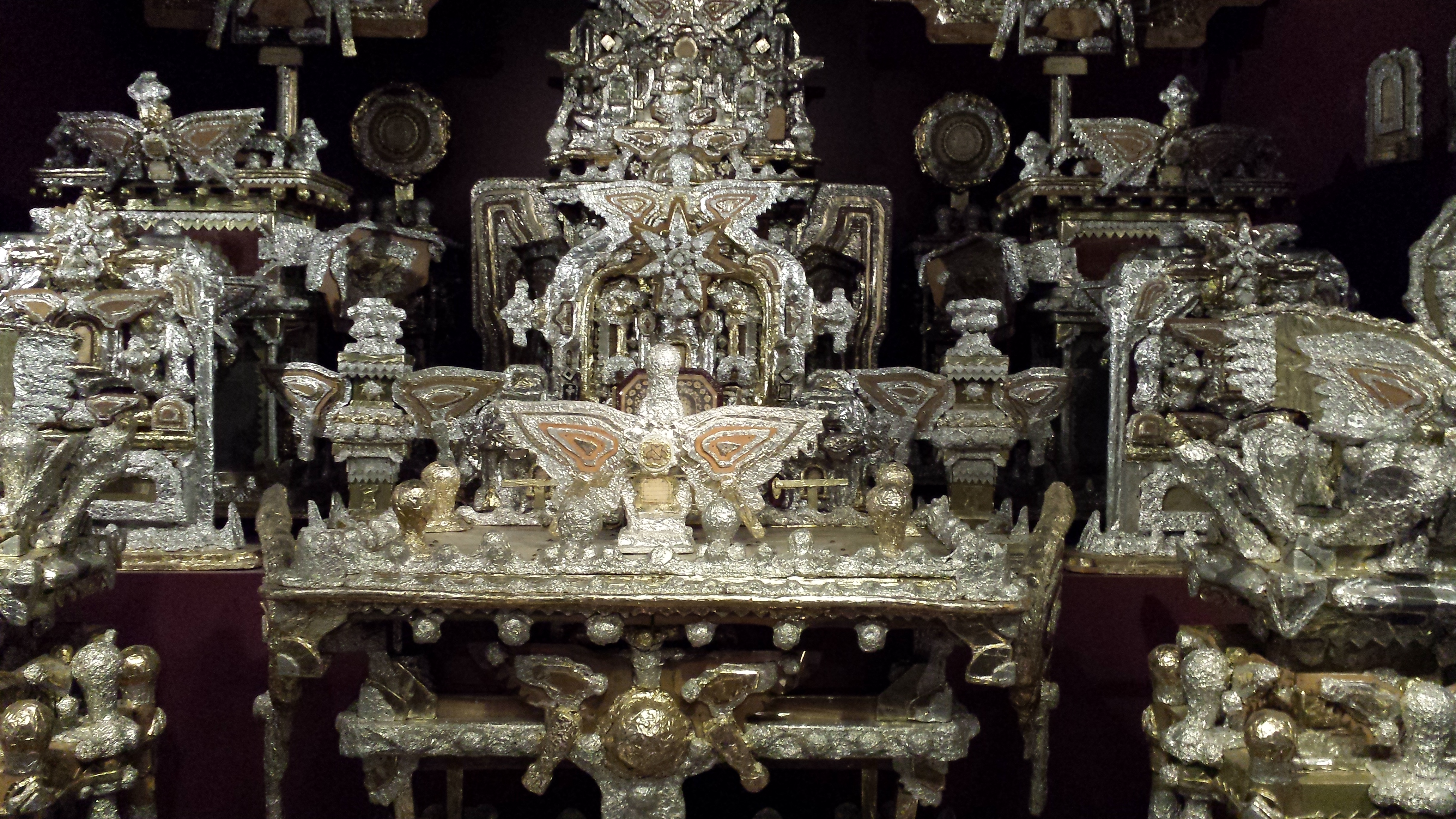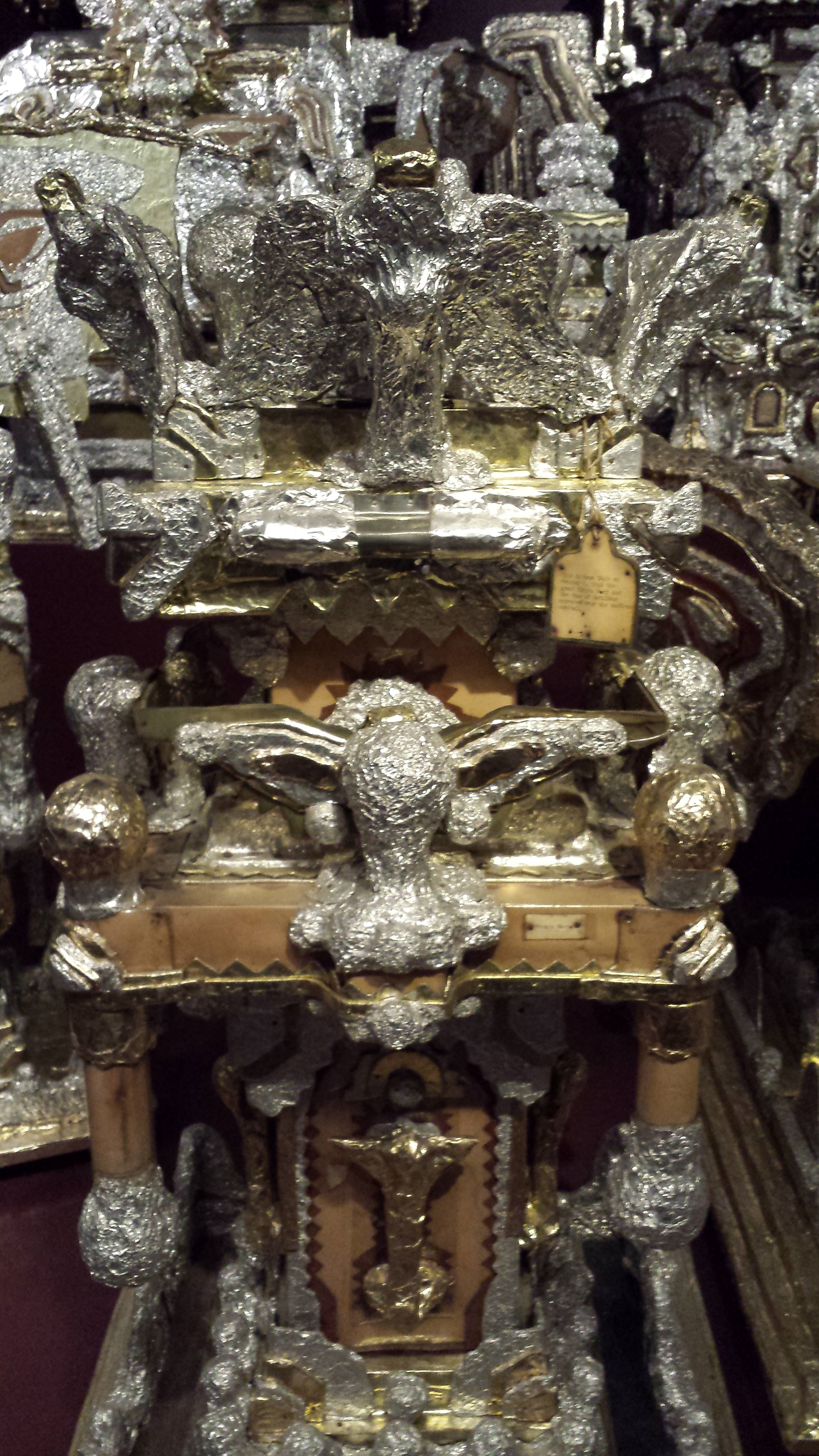 Tags: Art, James Hampton, Richard Rohr, The Throne
Comments are now closed.