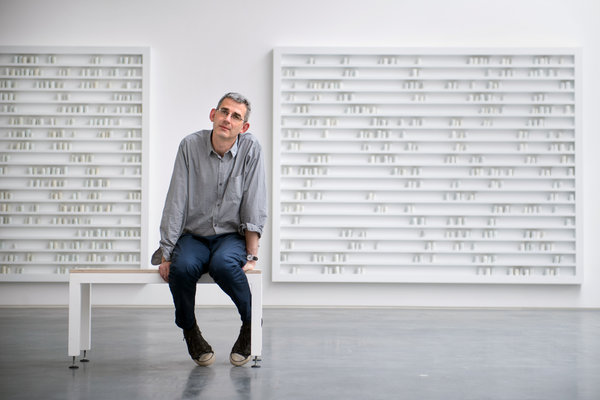 Edmund de Waal (Photo: Andrew Testa for The New York Times)
Mr. de Waal's inspiration comes as much from poets and musicians as it does other artists: the Japanese photographer Hiroshi Sugimoto "because of the abstract way he deals with an image"; composers like Steve Reich and John Adams, for their serial, repetitive music which "allows me to think about slow, incremental change"; poets like Wallace Stevens and John Ashbery, "because of their cadences and passionate abstraction."

–Carol Vogel, New York Times
Edmund de Waal first caught my eye when I read his bestselling (and only) book, The Hare With Amber Eyes. A ceramist who can write that well? Not what you would expect.
My interest was piqued further when I started seeing several articles about him prior to his show at Gagosian Gallery in New York. When I read the paragraph above I stopped short: every person he listed as an influence has had a major impact on me too. Hiroshi Sugimoto. Steve Reich. John Adams. Wallace Stevens. John Ashbery. How often is the list a perfect match?
In an interview with Iain Millar, de Waal speaks words that could have come out of me:
One of the really interesting things in contemporary art is about the loss of time. The process is neutral, it's not a good thing or a bad thing, but long looking and long making do something different from short looking and short making.
He also addresses his discomfort when the making and the selling are too closely aligned, and more boldly, of his dislike of art fairs:
Millar: I was wondering what would bring you out in hives again.

de Waal: When I discovered that I don't agree with art fairs, that an artist going to art fairs make me ill…

Millar: You're a refusnik?

de Waal: The brutality and the commodification of what you've just done is just too total for me. I'm English enough to enjoy that separation. I like making stuff, talking about how it's going to be curated and then finding out later about whether someone's bought it or not. That interim process of seeing it being sold is a bit of a shock.
Which brings me around to his show at Gagosian. I was very moved by this show, and yet there is a but in my praise. While de Waal's work has that much needed—and often hard to describe—quality I call presence, it felt compromised, its energy muffled.
My reservations have something to do with the same words de Waal used to describe art fairs: brutality, and commodification. My problem is not with the work but with the context.
de Waal's work is not suited for the environment of a Gagosian Gallery. I would have had a very different experience had it been installed at the Rubin Museum surrounded by sacral Himalayan art, or in a large non-secular (used here to mean non-art world) space. The experience this work offers is fragile, quiet, delicate and rare. Those nuanced responses are drowned out in a Gagosian where the commodification is steroidal.
As a result the work can be misread and misunderstood. Not surprisingly reviews of the show have been extremely bifurcated. For example Roberta Smith, usually a favorite writer, was very dismissive:
Time spent with Mr. de Waal's work can teach a lot about the nuances of ceramics, but his work is ostentatiously precious and ultimately naïve. It forces a pastiche of received art ideas through the sieve of a different medium, gaining a physical distinctiveness, but little more. Too bad he found ceramics itself so deficient.
If naïveté is de Waal's flaw, then so be it. Not knowing where to place his work may also be part of that. Martin Roth, director of the Victoria and Albert Museum said, "He doesn't fit into a niche, and that's his strength. He's not copying 18th-century or ancient Asian porcelain. His work is completely modern, but it is steeped in a great knowledge of history."
In de Waal's words:
I make objects out of porcelain, which are vessels. And I put them in different kinds of cabinets and vitrines and then put those into different spaces. So what is it? It's patently sculpture of a kind, it talks to architecture I hope, it's very much rooted in poetry and music, it's pottery at a very real level. But it doesn't slip effortlessly into a contemporary genre.
The show is on view until October 19.
Tags: Art, Edmund de Waal, sculpture
Comments are now closed.