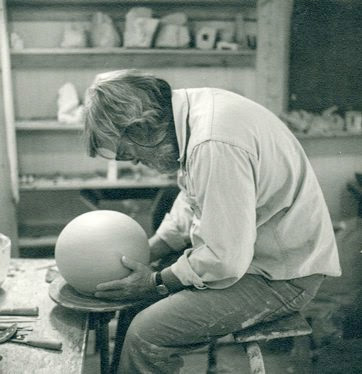 Ken Price at work (Photo: LACMA)
I am especially fond of an essay written some time ago by William Deresiewicz (author of the recently released Excellent Sheep: The Miseducation of the American Elite and the Way to a Meaningful Life) that appeared in the Chronicle of Higher Learning titled The End of Solitude.
Deresiewicz traces the idea of solitude through history, from the early Greek era through Romanticism, Modernism and now Postmodernism. Turns out solitude has gone in and out of fashion. During certain periods, such as the Romantic age, it was highly valued. At other times, like our own, much less so.
But it is his commentary on our era's particular proclivities that caught my attention this week:
Celebrity and connectivity are both ways of becoming known. This is what the contemporary self wants. It wants to be recognized, wants to be connected: It wants to be visible. If not to the millions, on Survivor or Oprah, then to the hundreds, on Twitter or Facebook. This is the quality that validates us, this is how we become real to ourselves—by being seen by others. The great contemporary terror is anonymity. If Lionel Trilling was right, if the property that grounded the self, in Romanticism, was sincerity, and in modernism it was authenticity, then in postmodernism it is visibility.
That quote spoke directly to two novels I have read recently that feature women artists—The The Blazing World by Siri Hustvedt (and which I have written about previously here) and The Woman Upstairs, by Claire Messud.
While very different books by two very different writers (neither of whom has been a visual artist BTW), the female protagonist in each is devoted to her art making but has been unsuccessful in her career. Whether that lack of success is fair or unfair is less to the point of either book; more apropos is that both women have been deeply wounded—perhaps one might even say maimed—by their invisibility in a profession that has become as fickle, youth-centered and image conscious as Hollywood, a world where money and connections matter infinitely more than the once sought after qualities of talent, commitment and vision. As a result, both of these artists are full of rage. The anger in both of these books just seethes out of the pages, like oil from an unwieldy container.
For those of us—and that "us" is legion—who operate below the radar screen of auction houses and blue chip pricing, rage that enormous is not unfamiliar. The old line about the fate of the elderly—you can either be crazy or bitter, pick one—applies to aging artists as well. I have never doubted which one I prefer.
While female and minority artists have been discriminated against in every previous era and mostly overlooked, an artist's rage at feeling invisible is gender and race blind. In my conversations with artist friends from my days in New York City in the 1970s—practicing artists who are now entering their 6th, 7th and 8th decades of life—this is a topic that invariably comes up. Some say they are, like the graciously non-game playing artist Ken Price, reconciled to living their lives out without visibility and accolades. But others struggle more openly with feeling bitter, and they believe those who don't acknowledge the same are just masters of denial. Underneath all that talk of not caring they say, every artist harbors a deep hunger to be seen and acknowledged.
It is not my place to dissect the artist's secret self, but I do believe our era's particular obsession with visibility is in fact a disability for many who need quiet, solitude, focus and isolation to make their art and do their work. In this high connectivity world, it requires an explicit and concerted effort to carve out that private cave time, to keep the channels that are feeding our process free of noise and clutter. The rest is, in my opinion, a secondary concern.
But saying doesn't make it so. Our world is our world, and its values are ambient. Thankfully there are heroes like Ken Price. I take pleasure in reading this quote from Dave Hickey's essay in Ken Price Sculpture: A Retrospective, Price's posthumous show catalog:
There are, of course, actual downsides to working small, strange and far away, up in the high country outside of Taos, but Price has kept his own counsel on these. He tells his friends that he thinks of his time on earth in the studio as a gift, so why ask for more?… "Kenny is very pure," Billy [Al Bengston] says, "and very stubborn, a poet and a philosopher. He doesn't care about fame or money."