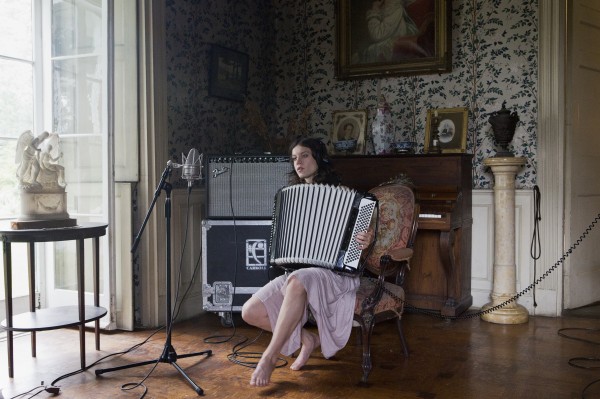 One room from "The Visitors", by Ragnar Kjartansson


Installation view (Photo: Agostino Osio, courtesy Fondazione Hangarbicocca)

The Clock, a video montage/art installation by Christian Marclay, artfully stitched together 24 hours' worth of vignettes with references to time. Stipulated by Marclay to only be viewed in perfect synch with real time, The Clock's sequences are extracted from our collective cultural consciousness of movie and television. Those images, as if from a collective dream, are haunting and mesmerizing.
The power and genius of Marclay's project took me completely by surprise. And like many of my friends, I endeavored to view as much of the full cycle of The Clock as possible while it was available at the MFA in Boston in 2011.
So it is high time—for me anyway—to be seduced and enchanted by another video piece. I have found a candidate for that at the ICA in Boston: The Visitors, by Ragnar Kjartansson.
The set up is simple enough. Eight screens each show scruffy, casually attired musicians in different rooms in a massive, "shabby chic" mansion in the Hudson Valley. (Kjartansson himself is in a bathroom, sitting with his guitar in a tub of water.) Wired with headphones, they collaborate together on one song that winds its way through most of the hour-long video.
Like The Clock, The Visitors is an exploration into the mystery and often ineffable way we humans connect and assemble a sense of ourselves. Both of these projects exist in a zone between the narrative and the non-narrative, a zone that allows for something new to emerge.
In his review in the Boston Globe, Sebastian Smee called The Visitors a generational masterpiece, one that "may even be remembered as having helped trigger a change in the climatic conditions of contemporary art."
Aside from anything else, "The Visitors" is a triumph of tone. Alive to the preposterousness of its premise—a bunch of hipster musicians from Iceland squatting in a grand home on the Hudson…in order to perform a repetitive, rather unremarkable song—it somehow transforms latent irony into sincere and open-hearted expression…

It presents itself as slackerishly devoid of ambition, but "The Visitors"…actually heaves with a yearning for beauty, an ache for love. The ache is powered, of course, by nostalgia, but also by an urgent, aesthetic desire to throw off something felt as too much in the way of today's artists: the burden of intellect.

In a setting that is not so much dissonant as ill-fitting—suggestive of an artistic inheritance so grand it can only be awkward—it posits the possibility of an escape from the cul-de-sac of too much history, too much civilization—and not least, too much critical thinking. It posits the possibility of a foray into true feeling.
I would recommend investing the time to watch this entire experience unfold. The last scene is masterfully poignant, and it achieves its finality without dropping into the manipulative or artificed.* That image—and the aura of the entire The Visitors experience—is now mine to revisit over and over again.
The Visitors is on display at the ICA through November 2.
_____
*I just want to make this point: Artifice is an essential element of any artifact—be it a painting or a video—but it is in the gradations and subtleties that we are transported past that barrier of the craftedness of a work and into experiences that feel real and authentic. That is an issue I believe a maker confronts every day, with every work.