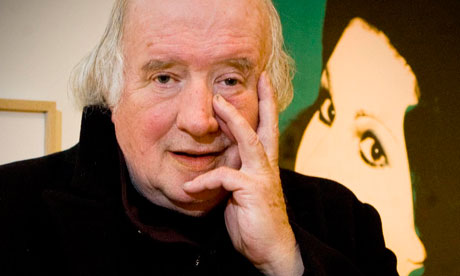 Dave Hickey (Photo: Nasher Museum Of Art)
Most of us have a list of our "personal perennials"—those writers, artists and musicians whose works continue to delight, engage, astound, connect. My loyalty to my list runs deep, and there is nothing you could say to sway me from my devotions. They are my inner circle, my carefully selected cotravelers.
Bad boy and art critic Dave Hickey is on that list. My copies of his books, from Air Guitar to The Invisible Dragon to his latest, Pirates and Farmers, have underlining and comments scribbled on every page, their covers crinkled from repeated reading. Some people I know are tired of his tirades and his over the top condemnation of the monied art world, academia, phonies and bad art passing as good art. I get that.
But here's the thing: For those of us who approach art making with a larger than life devotion and seriousness that has more in common with spiritual aspirants than with hip urbanites, this is a hard time to be an art maker. Money, glamorous commodification, ego and market manipulation increasingly drive the stratospheric world of gallerizing, auctioning and art fairing. More Wall Street than Rothko's Chapel, that world's glitter garners visibility and fascination because it is so excessive.
Nothing that happens in that realm however has anything to do with what many of us spend our days doing. If devotion to your work is what you do, you do it quietly and without fanfare. Hickey's insouciance serves to clear the air of that ambient toxicity. Reading him actually helps me stay focused and steady in my work.
In this latest collection of essays Hickey writes about the difference between the art of Southern California and New York City, particularly during the Minimalisms (they are different) that emerged in the 1970s. He writes about Las Vegas, art collecting, taste, style and the difficulty in assessing the quality of a work of art. Through it all, he is wild and he is funny.
Here's Hickey doing one of his Hickey things from the book title's essay:
All human creatures are divided into two groups. There are pirates, and there are farmers. Farmers build fences and control territory. Pirates tear down fences and cross borders. There are good pirates and bad pirates, good farmers and bad farmers, but there are only pirates and farmers. They are very different kinds of creatures, and some pirates even recognize the importance of farmers…Farmers on the other hand, always hate pirates…

Never forget that one of the chief causes of personal unhappiness in the US of A, where farmer culture is all but hegemonic, is the denial of pirate identity, because farmers always know who's a pirate. Pirates don't always know what they are.
It is very important to know which you are, says Hickey. "There are many unaware pirates, however, in workplaces around the world, who wonder why they are never invited to the weenie roast. They are pirates, but they just don't know."
Argh!