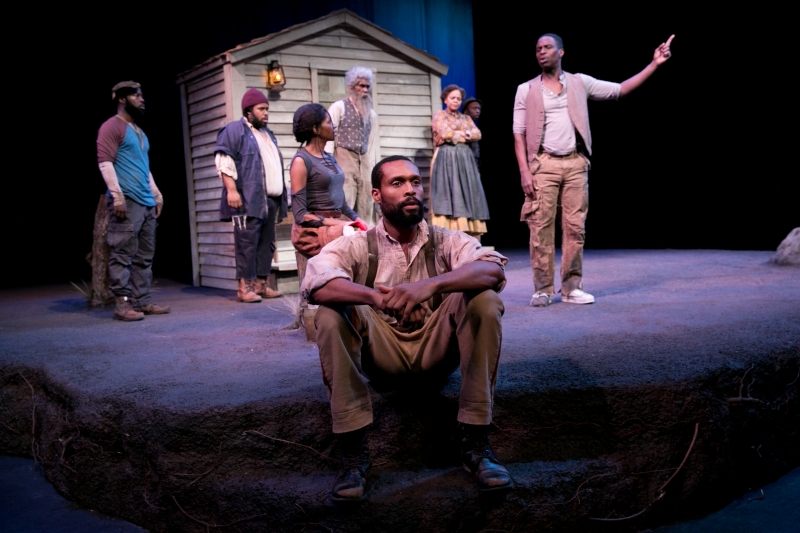 Father Comes Home From The Wars (Parts 1, 2 & 3) (Production Photos: A.R.T.)
Suzan-Lori Parks, playwright, Pulitzer prize winner, MacArthur genius fellow, talks about her writing in a manner that resonates deeply with me. She openly speaks about how she lets the spirit inspire her. (A Sanskrit tattoo on her arm reminds her to "follow god.") "I have a daily practice of writing, yoga and parenting" she proclaimed in a recent interview.
That centeredness spills over into an undeniable sense of self confidence. Parks possesses an artistic sovereignty that enables her to function as her own creative nation state. That is what every imagination-rich artist works for.
From a recent article about Parks by Patrick Healy in New York Times:
But here's the thing about Ms. Parks: When she thinks she's right, she's certain of it. No doubts, no fretting about self-sabotage. While some have knocked her work as self-indulgent or annoying at times, she has an exceptionally vivid sense of herself as a writer who exists on another plane from dramaturgical nit-pickers.
That passage couples nicely with this Parks quote about process from a remarkable interview/conversation with playwright Han Ong in Bomb magazine:
Well, that's it. It takes a suspension of ego. In the old days, it was, "willingly suspend your disbelief" But now it's, for me, "get out of the way." It's Zen. Suspend your ego long enough to ask the question, who am I, really? I write for me.
These twin concepts—artistic sovereignty and the Zen-like trusting of the process—are extremely well developed in Parks and so admirable. But Parks also commands my respect with her passion for writing stories about and for African Americans. Parks shares her raison d'être quite succinctly in her conversation with Ong: "I write plays because I love black people. I just figured it out fairly recently. Not that I had any other reason before that, but I realized why I want black people on stage—because I love them. And it probably sounds very vague, but it's true."
Taking that concept further, John Heilpern quotes Parks in his piece Voices from the Edge:
"Because of a shameful past," she points out, "there's an equation from both whites and blacks that automatically goes: Black people are oppressed. There are some wonderful plays about the black struggle—but is that all we get to write about? There's another equation, I think. And that's what I'm interested in. How about black people, period? What if you remove the racial tension for a moment? What, then, is the drama and what kind of theater does it make? Maybe really weird theater! But I'm trying to remove the straitjacket."
Aligning with Parks' intentions and approach doesn't necessarily guarantee a connection with her work however. Parks' recent play, Father Comes Home From the Wars (Parts 1, 2 & 3), is on a run at A.R.T. in Cambridge after its premiere at the Public Theater in New York City last fall. (In his review in the New York Times, Christopher Isherwood heralded these first three plays as Parks' best work so far.) As much as I wanted to connect deeply with this latest work, I found it difficult.
Taking place in the Civil War, these three one-hour plays offer a fresh deconstruction of Homer's Odyssey. The protagonist is a slave named Hero (later called Ulysses,) his wife Penny, a dog named "Odd-See," fellow slave Homer and a small "chorus" of other slaves. Part 1 is the set up for Hero's decision to go to war on the Confederate side with his "boss-master." Part 2 takes place during the war, and Part 3 is Hero/Ulysses's return home after the Emancipation Proclamation.
As a story line, this is rich with possibility. But that sense of possibility was thwarted early on for me. Perhaps it was pacing. Parks often talks about how language is music ("There are aspects of music that I borrow and use in my work: repetition and revision. A big part of jazz is repeat and revise, and repeat and revise," she told Ong.) The rhythm of the whole evening was colored by a tedious beginning. The cadence of the dialogue felt slow and labored, more irritating than enchanting. There were individual moments when language and character did come together—the fierce monologue by the white Colonel/boss-master about how grateful he is that he is white, Hero's meditation on his worth (as a slave or as a free man), the oddly out of place but engaging soliloquy by the talking dog Odd-See. But I struggled to find the thread that could hold all these pieces together in a meaningful arc, and it escaped me.
It could just be a quirk in me, so I have spent a lot of time thinking about why these plays missed the mark. It may be that I just happened to see them on one of those nights when that mystical theatrical magic—the alchemy that transforms words, actors, music, sets into another reality—just wasn't happening. I did speak with three other people who also saw the play, two of them on a different night. They also had issues although their list was different than my own. It wasn't stitching together as a whole for any of us, but each of us had our own explanations for why that is. I would love to have someone who adored this play tell me why they did.
Parks has announced that there are nine parts to this work, a long term project that ambitiously takes on the 100 years subsequent to the Civil War. The remaining six parts will follow the progeny of these characters as they navigate an America that we all know too well as crippled by a legacy of race discrimination. Parks is so formidable an artist that my dissatisfaction with this first installment does not preclude me from telling people to see the play and to sign up to sail with Parks on this ambitious voyage. I am, in spite of my reservations, very curious to see where she will take this narrative in its larger arc.
Yes, I'm still watching.