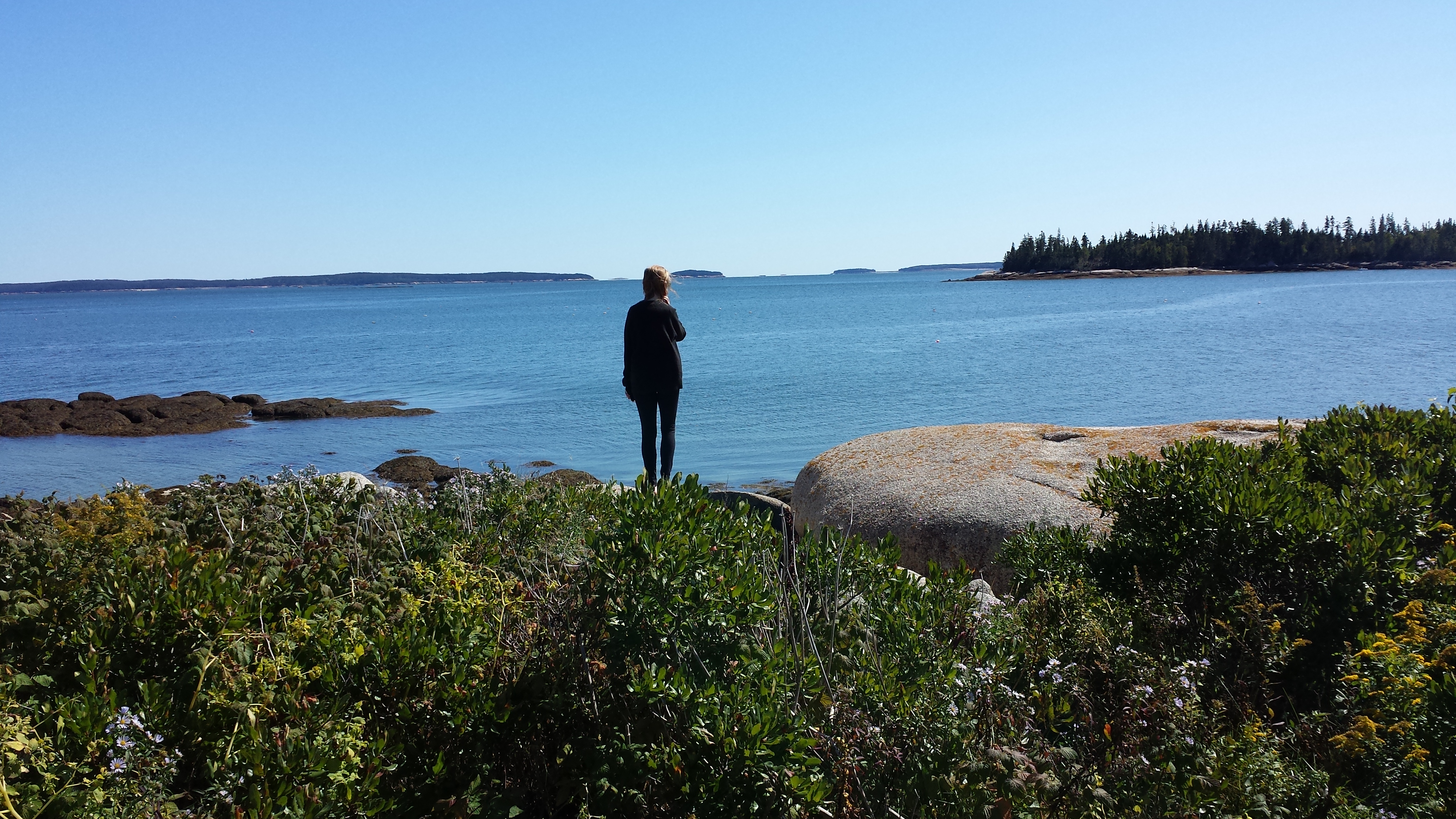 A woman, alone, in the landscape (This particular one being my friend Ali Ringenburg at Deer Isle)
Two excellent books, both written by women, have the same title: Wild. Sheryl Strayed is American, and her book became an instant best seller (and soon a movie starring Reese Witherspoon.) Jay Griffiths is British, and she is not as well known to American readers. But both are gifted, informed writers who felt called—with very different intentions—to journey outside the familiar as a way of connecting with something primal in themselves. I loved both of these books.
Strayed's Wild: From Lost to Found on the Pacific Crest Trail (2013) is a personal narrative of walking the Pacific Crest Trail from Southern California to Washington State in 1995. She was 26, had recently lost her mother and was untethered and at odds in her life. Aside from just a few dramatic moments, not that much happens over the course of her journey. But Dwight Garner nails the spirit of the book quite adroitly when he wrote, "This book is as loose and sexy and dark as an early Lucinda Williams song. It's got a punk spirit and makes an earthy and American sound."
Griffiths' Wild: An Elemental Journey (2006) is the account of a more mature and self-aware consciousness. Griffiths began her journey when she felt lost, suffering through a dark and pathless depression. "I couldn't walk, I couldn't write, and it felt as if I couldn't survive the violence of my unhappiness."
This was the calling, the vehement, irresistible demand of the feral angel—take flight. All that is wild is winged—life, mind and language—and knows the feel of air in the soaring "flight, silhouetted in the primal."

This book was the result of many years' yearning. A longing for something whose character I perceived only indistinctly at first but that gradually became clearer during my journeys. In looking for wildness, I was not looking for miles of landscape to be nicely photographed and neatly framed, but for the quality of wildness, which—like art, sex, love and all the other intoxicants—has a rising swing ringing through it. A drinker of wildness, I was tipsy with it before I began and roaring drunk by the end.

I was looking for the will of the wild. I was looking for how that will expressed itself in elemental vitality, in savage grace. Wildness is resolute for life: it cannot be otherwise, for it will die in captivity. It is elemental: pure freedom, pure passion, pure hunger. It is its own manifesto.
Griffiths is highly aware of the overplayed nature of the "solo journey," negating any suggestion that she is participating in an old and hackneyed form (one that has often been the domain of Euro-American men). She is searching for something much deeper:
I wanted nothing to do with the heroics of the "solo expedition." There was no mountain I wanted to "conquer," no desert I wanted to be the "first woman to cross." I simply wanted to know something of the landscapes I visited and wanted to do that by listening to what the knowers of those lands could tell me if I asked. I was exasperated (to put it mildly) by the way that so many writers in the Euro-American tradition would write reams on wilderness without asking the opinions of those who lived there, the native or indigenous people who have a different word for wilderness: home…

From Intuit people in the Arctic I learned something of the intricate ice and how all landscape is knowledgscape. From whales and dolphins I learned how much we do not know, the octaves of possibilities, the maybes of the mind. From Aboriginal people in Australia i learned the belowness of things, how land is heavy with significance and how it sings…Everywhere, too, I learned of songlines, how people who know and love a land can hold it in mind as music.
Her adventures are many, with chapters that clump her journeys together under titles like Wild Earth, Wild Ice, Wild Water, Wild Fire, Wild Air, Wild Mind. Griffiths has many passages that capture a lyricism of voice that coexists alongside her harshly honest frustrations and her deep concern for the well being of our world. For example, on the sexuality of nature she writes, "To every monkey an erection; to every insect, sackfuls of eggs; … mushrooms conjugally fungal; every parrot on the squawk for it; every peccary rutting for it; every tendril internally sprung for it. Nothing unthrust." On the topic of depression she writes that there is "no particularity, no peony, no pip, no piano, no parsley, no play." On global warming she expounds, "Ice melts, language melts, a culture melts, a climate melts, and all the music, the songlines of ice-alive melt to the engineered unmusic, the silence of a melting world."
Wildness has many layers, and it is a term and a state of mind that has many facets. Parallels run between these outward journeys taken by Strayed and Griffiths and the kind of experiences I often have while working in my studio (which of course is nothing like a wilderness setting.) The connection between these two concepts is more ethereal than direct, something that rings familiar even while being hard to describe in words. "The human mind developed in wilderness and needs it still," Griffiths writes. She also includes a quote from the poet Gary Snyder that speaks even further into that commonality: "Wildness is the state of complete awareness. That's why we need it."