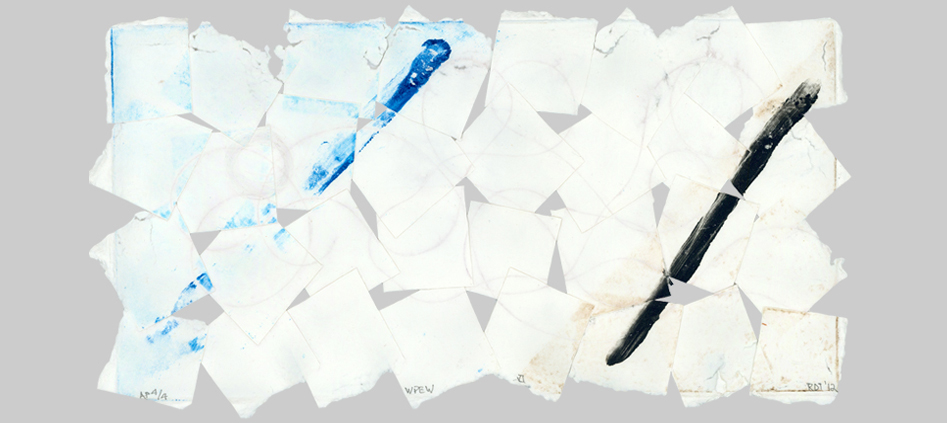 "When Pressure Exceeds Weight VI," by Richard Tuttle (2012) (Photo: © Richard Tuttle/Universal Limited Art Editions)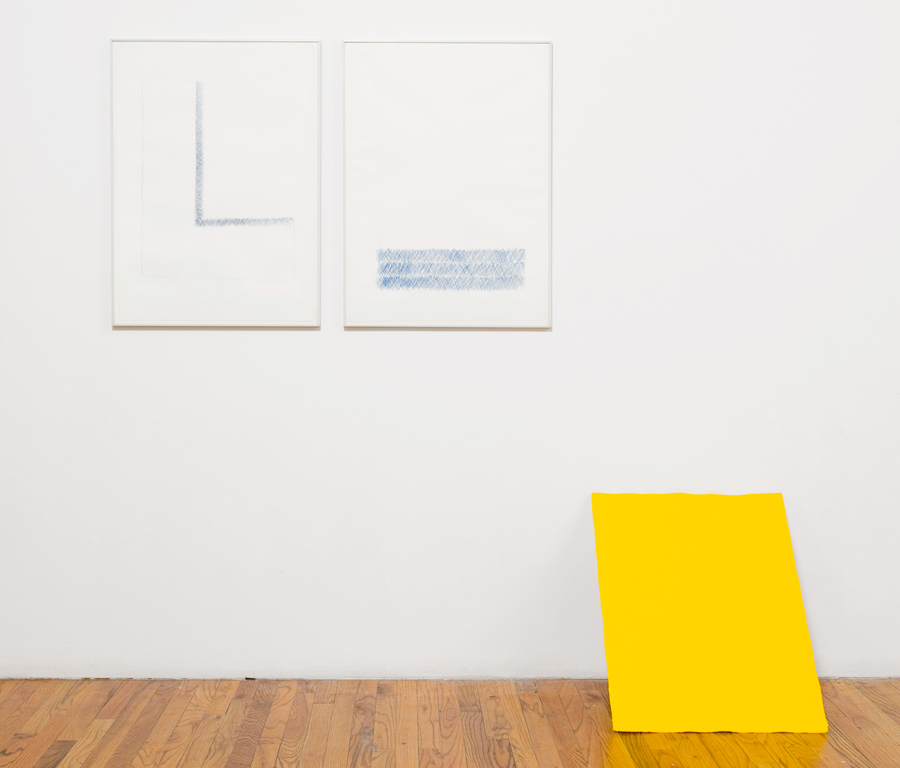 "In Praise of Historical Determinism I, II, III," by Richard Tuttle (Photo: © Richard Tuttle/Brooke Alexander)
Richard Tuttle: A Print Retrospective at the Bowdoin College Museum of Art is a sophisticated, intelligent, inventive, provocative and exuberant exploration of over 40 years' worth of printmaking by one of the great living artists of our time. Famously gifted in an ability to see around, under and behind a thing in a way that repeatedly surprises and delights those of us who follow his work closely, Richard Tuttle is the perfect candidate to playfully dismantle the tradition-bound world of printmaking. This show upends the orthodoxy of woodcuts, wood engravings, lithography, intaglio, colographs and monoprints, and the results reveal a great deal about Tuttle's artistic practice and the way he thinks.
I have been a Tuttle fan most of my art making life. His show at the Whitney Museum in 1975 took place right after I arrived in New York City from California, and it was one of those life changing experiences for me. Controversial and bravely stated, that show cost curator Marcia Tucker her job. But it also gave many of us a paragon for how the visually playful and simple can express an Eastern philosophical sensibility—demonstrated simply by a nailed segment of white twine that took stewardship of an entire wall. Tuttle's work has spoken to me directly and personally ever since. (A list of previous Slow Muse posts about Tuttle is included below.)
Since that show in 1975 there have been many other exhibits, most recently the massive retrospective mounted by the San Francisco Museum of Art in 2005 (which, in a sweet coming full circle, also made its way to the Whitney.) In many ways however this show at Bowdoin offers even more transparency into Tuttle's work than the others. With over 100 pieces on display, you are able to track his tireless eye and perpetually investigative mind at work.
This exhibit exposes in meticulous detail how Tuttle breaks things down, the way he pulls something wide open and then allows another something quite exquisite to emerge from the most unexpected shards of that dismantling. An early woodcut was created using magic markers. A series of intaglio prints incorporates the ubiquitous tarlatan (the special cloth traditionally used to carefully wipe ink from a plate) as a tiny grid matrix that is brought into the composition as an unexpected flourish. Plates are cut into shapes and the edges become lines in the composition. Paper pulp and other elements go into the press along with the plate, sometimes squeezing out the sides and extending the shape outside the familiar rectilinear form. This isn't a slackerish disregard for technique but an exuberant celebration of pressing and pressure, another way to extend the dimensions and capabilities of the printing press itself.
The curatorial text is very well done. Unlike the common proclivity to "explain" the art and to dumb things down to the lowest common demoninator, the wall words in this exhibit are respectful, informed and enhancing. Thank you for that curators Christina von Rotenhan and Joachim Homann.
Does a trip to Maine need additional incentives? I think not!
The show, at Bowdoin College in Brunswick Maine (about a 2.5 hour drive from Boston), is on view through October 19, 2014.
_________
More about Richard Tuttle on Slow Muse:
Martian Muse and Richard Tuttle