How does it happen, that a something—an image, a story, a meme—secures a spot in the cultural collective, that shared image/idea database full of entities everyone in our cultural milieu recognizes? Some are ancient, like the stories from the Greeks (Aphrodite, Apollo, Zeus) and the Bible (Adam and Eve, Noah, Abraham), and some are contemporary, often cinematically sourced (The Wizard of Oz, Gone With the Wind, Star Wars.) Once apotheotized, those entities take on a quality of ambience, accessible to all of us without having to be languaged or explained.
The story of Peter Pan took up residence in our Western collective unconscious soon after it was written by the Scottish writer J. M. Barrie in the early years of the 20th century. It emerged from his books and plays, and immediately it was embraced, adored and immortalized. The world of children. A charismatic boy who refuses to grow up and what's more, can fly. Fairies. Adventures without adults. The enchanted world of Neverland. The boundarylessness of imagination.
This storyline so full of playfulness and hope has its own tragic sourcing. The youngest of ten children, Barrie lost his brother David from a skating accident. To comfort his devastated mother, young James dressed up like his brother and even mimicked his speech. This charade born of grief became a pattern, and when James turned 13—the age that David was when he died—James literally stopped growing. For the rest of his life he remained five feet tall, had a high pitched voice and felt more at home with children than he did with his peers. When Barrie met the Llewelyn Davies family of boys in Kensington Park, the bond was immediate and deep. (After the boys' parents both died, Barrie became their guardian.)
Finding Neverland is the latest musical theater production by Diane Paulus at American Rep Theater in Cambridge. There is however no flying Peter Pan or a crocodile with a ticking clock below the plank in this production. The story of Peter Pan is the given that we all already know, and Finding Neverland steps out beyond that shared storyline to expand the context. This is a production about Barrie himself and his beloved Llewelyn Davies boys, brought to life in song, dance and theatrical magic.
And these days no one is doing the "brought to life in song, dance and theatrical magic" better than Diane Paulus. (Her four recent Tony awards are now ensconced in the Loeb Theater lobby.) The professionalism of this production is breathtaking. Paulus has repeatedly demonstrated her genius at assembling All Star rosters for these Broadway-bound productions, and in this one she has brought together a world class team of playwright James Graham, musicians/lyricists Gary Barlow and Eliot Kennedy, choreographer Mia Michaels, and performers who are, to the person, spectacular. What's more, this time she has the added imprimatur of celebrity producer Harvey Weinstein of Miramax.
The show is nearly sold out and a big hit with audiences. It is already slated to open on Broadway in March of next year. And even for musical theater curmudgeons like me who are more partial to serious drama, the spell cast by such flawless execution made the evening a memorable one. My daughter Kellin did not inherit my musical theater disaffection, and she was utterly enchanted by this production. Neither of us will ever forget the breathtaking artistry of Sylvia's exit. (I won't say more in case you are planning to see the play.)
Finding Neverland runs through September 28 at the Loeb Theater. Ticket information here.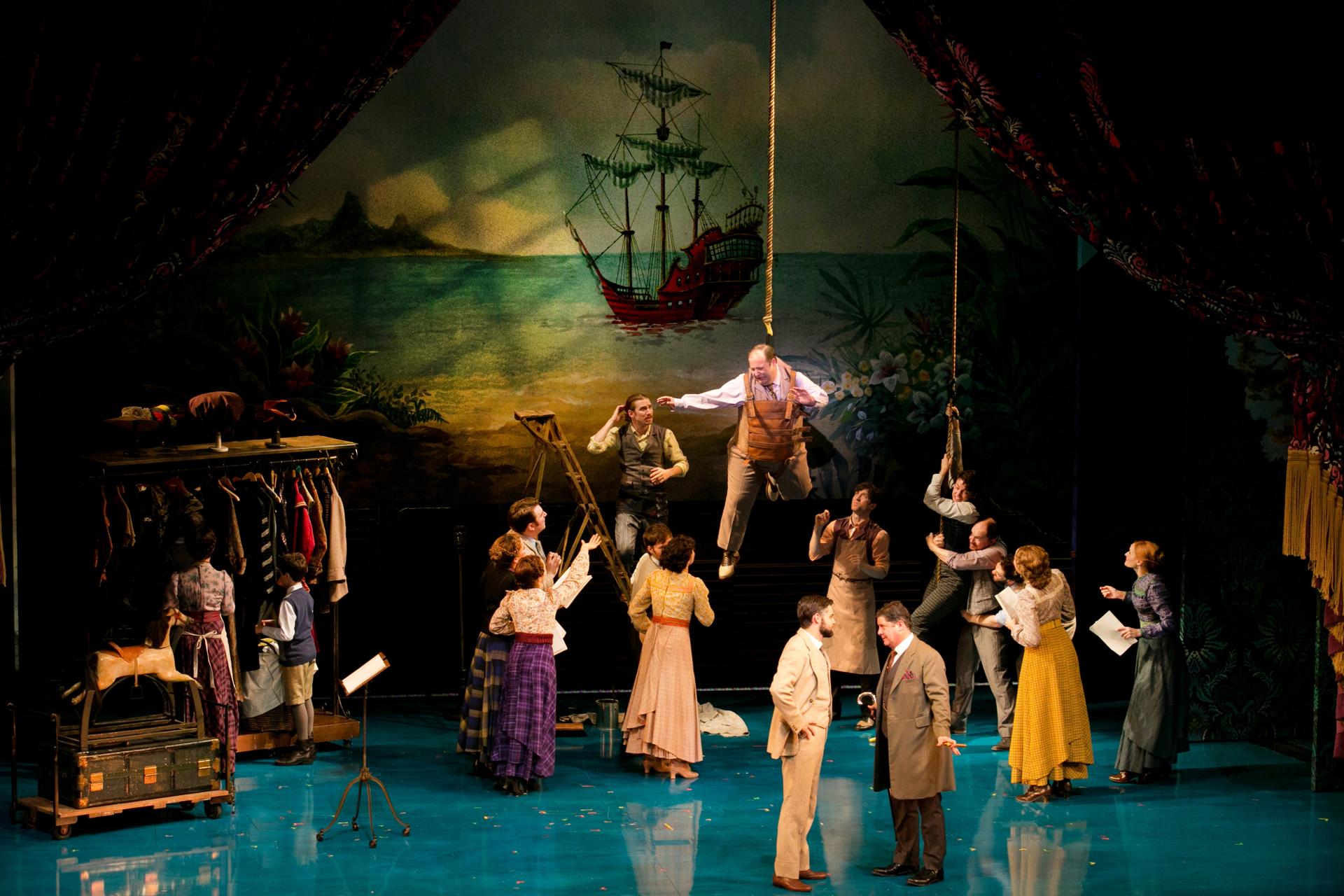 The American Rep Theater production of "Finding Neverland" (Photo: Evgenia Eliseeva)