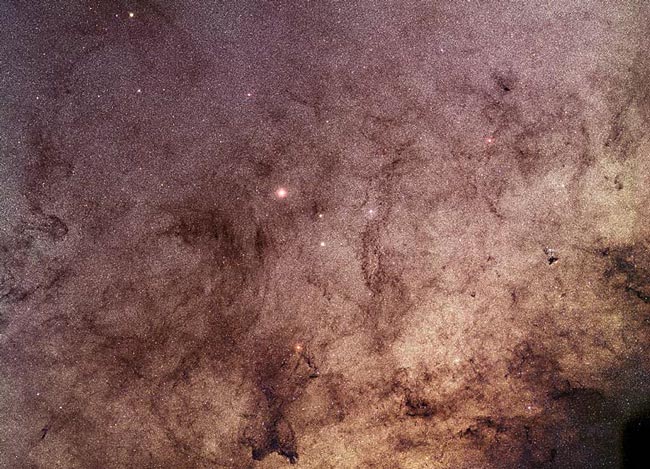 Billions of stars light up the direction toward the center of our Galaxy. The vast majority of these stars are themselves billions of years old, rivaling their home Milky Way Galaxy in raw age. These stars are much more faint and red than the occasional young blue stars that light up most galaxies. Together with interstellar dust, these old stars make a yellowish starscape, as pictured above. Although the opaque dust obscures the true Galactic center in visible light, a relative hole in the dust occurs on the right of the image. This region, named Baade's Window for an astronomer who studied it, is used to inspect distant stars and to determine the internal geometry of the Milky Way. Baade's Window occurs toward the constellation of Sagittarius.—From Astronet. (Photo: David Malin)
Over the last few months I have repeatedly bumped into the cosmic art meme: art explorations (by others as well as my own) that speak to and connect with the concept and implications of the space/time continuum.
Astronomical photographer David Malin's images of space (the above image is one of his photographs) have been assembled into an exquisite Phaidon volume called Ancient Light: A Portrait of the Universe. This book has been a steady resource for me all summer. Even the front cover is provocative: white binding wrapped in a black paper sleeve with star pattern perforations.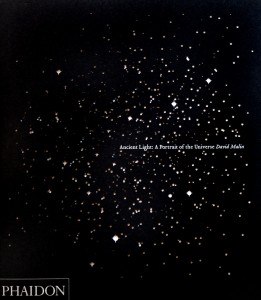 The recent show at the ICA featured works by Josiah McElheny where these themes were present as well. From the ICA description:
Some Pictures of the Infinite tackles cosmic questions, tracing this persistent theme in the work of Josiah McElheny. Over the past two decades, the problem of infinity has driven McElheny's efforts to represent the unrepresentable, as the infinite by definition must always elude stable grasp. The exhibition also examines images of time: archaeological time, linear and cyclical models, and the overwhelming span of cosmic time.

In McElheny's diverse body of work, the infinite crops up again and again… He has also repeatedly drawn inspiration from the enormity of the cosmos, gaining a working knowledge of astronomy through a long-term collaboration with the cosmologist David Weinberg. Their partnership has resulted in multiple artworks picturing the origins of the universe, with particular attention to the theory of the Big Bang.

Equal parts empirical and aesthetic, McElheny's imaginative approach to science doesn't instruct viewers but seduces them, couching cutting-edge cosmology in unabashed formal beauty.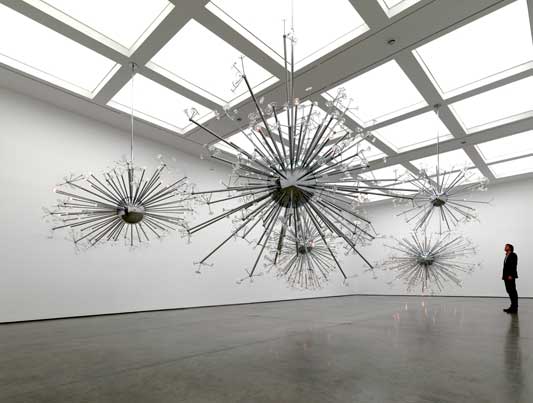 Installation view of Josiah McElheny's The Center is Everywhere at the ICA. The work's title references Blaise Pascal's pronouncement that "nature is an infinite sphere, whose center is everywhere and whose circumference is nowhere."
Last weekend I stopped by one of my favorite hidden jewels in Western Massachusetts, the Williams College Museum of Art. One of the exhibits, Cosmologies, dovetailed into this same cosmic meme.
From the curatorial statement by Elizabeth Rooklidge:
Cosmology is the arena in which science, metaphysics, philosophy, and religion converge. The multitude of cosmological approaches seeks to uncover the universe's origins, fate, meaning, and physical laws. By studying the universe, from the smallest pieces of matter to the enormous expanse of time and space, we may be able to come to a better understanding not only of its scientific functioning but also humanity's ultimate purpose. Drawn from the WCMA collection, Cosmologies considers just a few of the many ways in which art can explore these complex themes.

Reflecting the multifaceted nature of this investigation, the featured artists work in a wide array of media…several artists take scientific inquiry as their point of departure, integrating it with philosophical contemplation and a search for personal significance. Some mine ancient mythology, while others engage cosmological thought through compositional abstraction. A few reflect on the historical and cultural implications of space exploration. Whatever their origin, these works collectively reveal an enduring fascination with the universe as well as the rich results of these artists' cosmological investigations.
The exhibition includes works by Kiki Smith, Vija Celmins, Thomas Ruff, Duane Michals, June Wayne, Bernard Cohen, Lynn Chadwick, Joseph Cornell, Wallace Berman, Adolph Gottlieb, Robert Rauschenberg, Vik Muniz and Barbara Takenaga. Here is a sampling: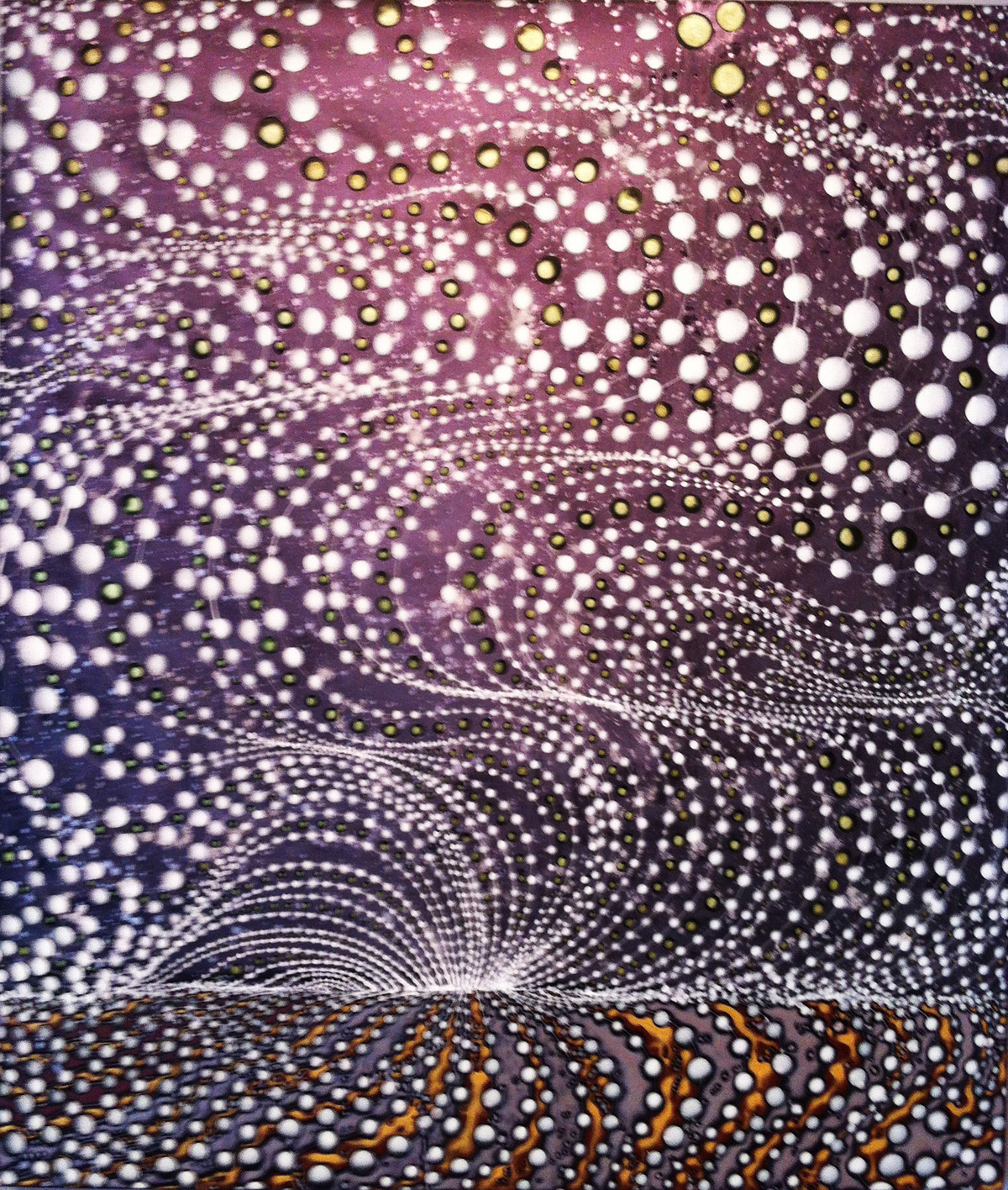 Nebraska Painting (Rising), by Barbara Takenaga
Three exquisite lithographs from June Wayne (who I have written about previously here) are accompanied by this thoughtful curatorial note:
In a series of lithographs entitled Stellar Winds, June Wayne turns scientific cosmology from celestial mechanics to energetic abstraction. A stellar wind is created by gas flowing from the upper atmosphere of a star out into space. Here, Wayne transforms the momentum of the star's gas into an enigmatic, graceful composition. Drawing from her artistic curiosity about energy and space, Wayne investigates the physical universe as a metaphor for exploration of the self.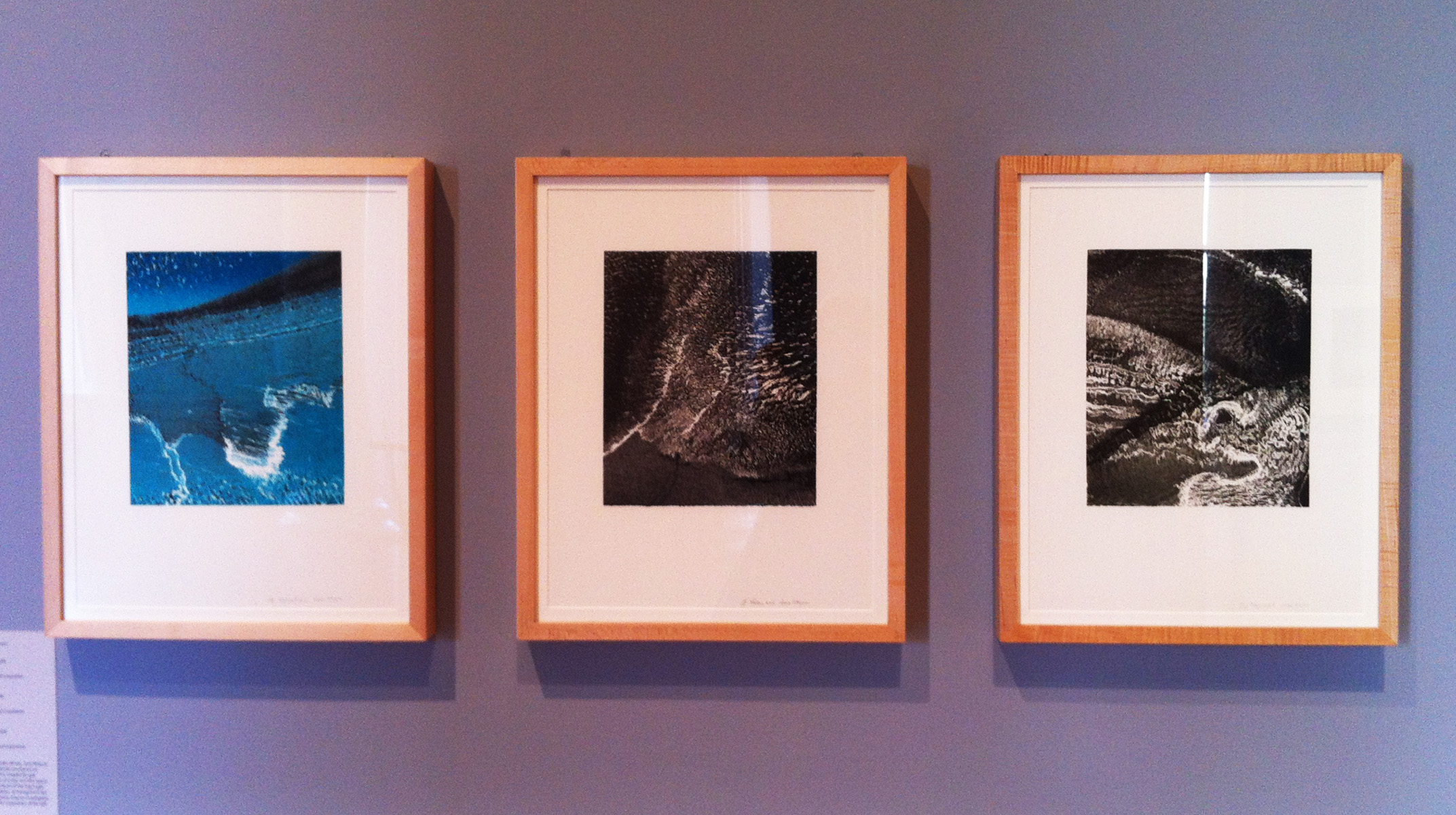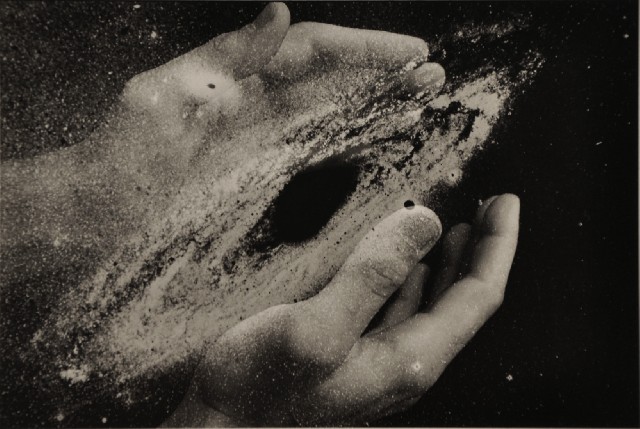 Duane Michals, Untitled (from "The Indomitable Spirit Portfolio"), gelatin silver print (Photo: Duane Michals)
And my own work speaks to an abstracted astral sensibility as well. In a new series of large format works, my explorations co-mingle a sense of the cosmic expanse with the infinite that also exists in that interior world of our consciousness.
That is one way of describing what is emerging I suppose. The right words are hard to find for a body of work that is still forming.
Tags: Barbara Takenaga, cosmos, David Malin, Duane Michels, Elizabeth Rooklidge, Josiah McElheny, June Wayne, Space, Williams College Museum of Art
Comments are now closed.