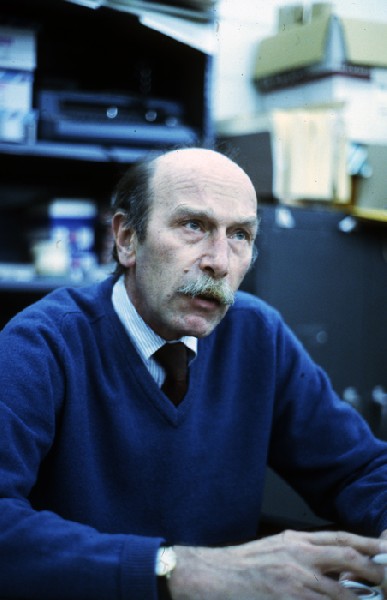 Carl Belz, my kind of thinker (Photo: www.berkshirefinearts.com)
How do we currently write current art's history? How, given its elastic chronology and ever-widening geographic reach, its self-consciously elusive look, the multiple urges and identities and media it comprises? How, in the absence of a canon of artists around whom a history might be structured, its sources and development traced, its context established, its achievements described? How, in the face of its censure on quality distinctions, its scapegoating of formalism, its dismissal of originality and artistic intent? How, in other words, do we write art's history within the broader context of postmodernism's prevailing hegemony?
So begins Carl Belz*'s most recent posting on Left Bank about two recently released books—Invented Symbols by Alex Katz, and Bad Boy: My Life On And Off The Canvas by Eric Fischl and Michael Stone.
Belz continues in this vein:
Our unwieldy culture and its academic strictures increasingly nudge us to write the history of current art not from the outside in but from the inside out, personally and informally, more often than not via the autobiography and the memoir, genres rooted in direct experience that is unique to the individual writer. In doing so, our voices may be unauthorized by institutional structures, but likewise are they unfettered by those structures and the conventions they embody. In the publications considered here those voices richly inform our understanding not of any classroom theory about art's making but of its day-to-day studio practice – the actual source material upon which any history of painting during the second half of the 20th Century in New York City must ultimately be based.
Belz's suggestion that a better (different? more compelling? more authentic?) version of art making would emerge if we were to shift our view from the outside in to the inside out is yet another example of a move towards dismantling the old order. This drift towards the non-canonical is something I champion and applaud. My most recent—and frequently referenced—canon-busting example has been Pacific Standard Time, the Getty-sponsored mega exhibit of Southern California art that was staged at 200 venues in 2011. As a result, the decidedly New York-centric version of American art over the last 50 years is being revised and recast.
More evidence of that new inclusiveness: The two best shows in New York City this summer are James Turrell at the Guggenheim and Ken Price at the Met. Both are California artists, and their sensibilities reflect their origins from a different coast. Peter Schjeldahl's review of the Turrell show in the New Yorker captured some of that difference with this statement: "Compare the dreamy sorcery of Turrell's installations with the blunt self-evidence of fluorescent fixtures in [Dan] Flavin's light pieces. At no other time have the sensibilities of America's Atlantic and Pacific cosmopolitan antipodes stood in sharper contrast."
Belz's post doesn't focus on this issue of California inclusiveness. Instead he insightfully contrasts the highly personal and revelatory memoirs of two well known artists, each of them sharing very distinct views of their career and the art world they inhabited. This thoughtful piece is worth a read, start to finish, for anyone who is compelled and provoked by these issues. After I read a piece by Belz, I immediately want to get to the next one. And the one after that.
_______
* If you are not familiar with Carl Belz, you can acquaint yourself by reading the posts he has published on Left Bank. Carl was the Director and the Curator of the Rose Art Museum at Brandeis University from 1974 to 1998. He also taught art history, and legions of his former students still rave about his classes, his charisma and his passion for art. I consistently connect to his sensibilities and am always interested by what he has to say about contemporary art issues. I consider him a valued and intelligent friend.
Tags: Alex Katz. Eric Fischl, Carl Belz
Comments are now closed.