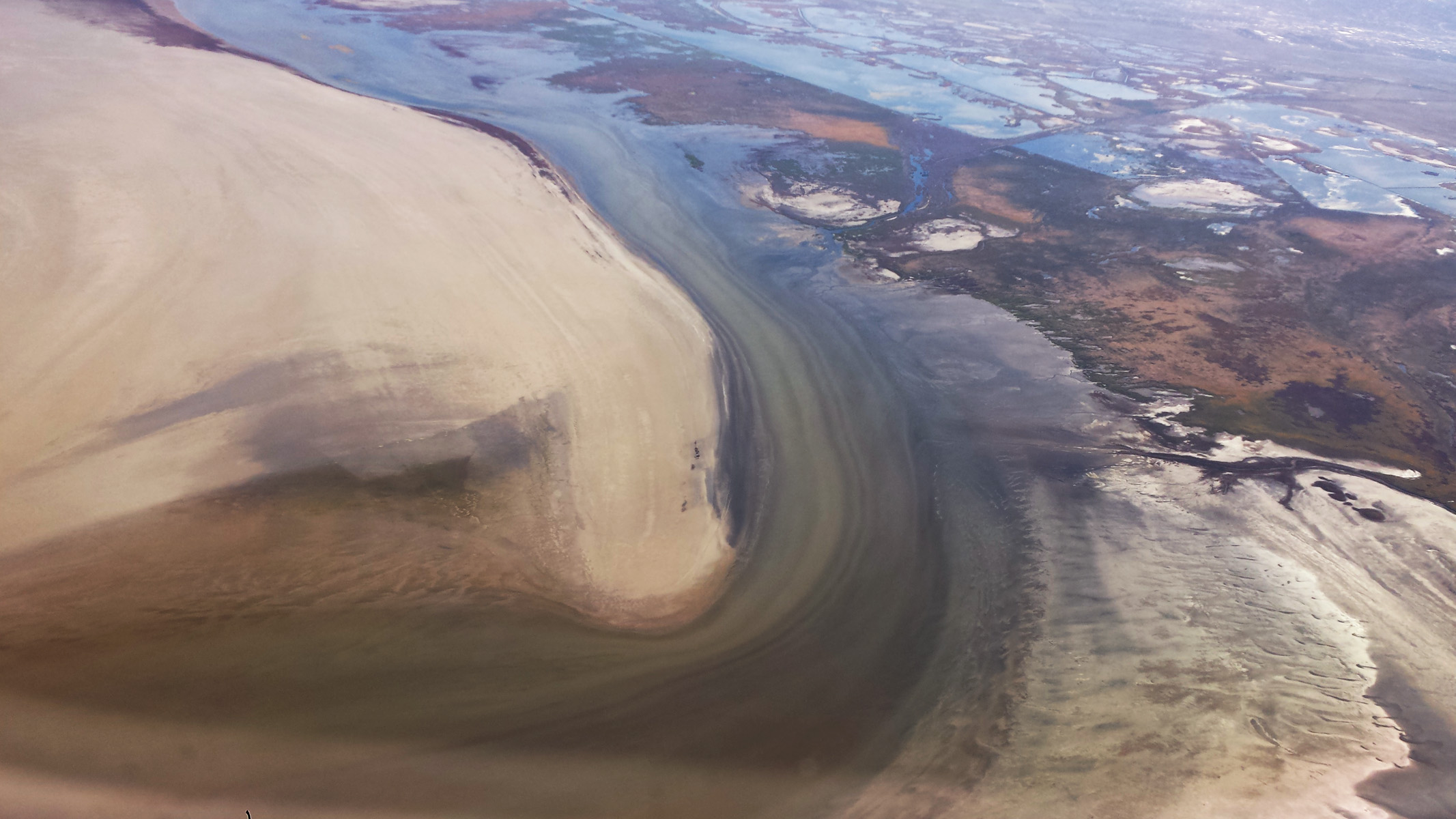 View of the shoreline of the Great Salt Lake
One of my favorite stories was told by Laurie Anderson about an interview she conducted with John Cage for the Buddhist publication Tricycle many years ago. A great admirer of Cage, Anderson was desperate to ask him the really BIG question: Are things getting worse or are they getting better?
Cage, ever the sage, responded with a gentle assurance. "Of course things are getting better Laurie. It's just that it is happening so slowly."
I have thought of that response so many times over the years. There are small patterns and large ones, and our perceptive skills have difficulty with some of the larger arcs. It's like the difference between weather and climate: We all know about weather, but we struggle to understand and truly perceive the concept of climate.
One friend refers to this as the "watching the tides" syndrome. As each set of waves comes to shore, big ones intermingle with smaller ones. But the larger pattern of the tides is also happening at the same time. That pattern requires patience and a knowledge of what to look for.
Many arcs of change are operating in our lives all the time. Some have patterns that make them difficult to discern until suddenly they seem to appear fully formed. My personal experience with this kind of surprise is what can happen in the studio. Your old reliable processes can hold you in a perceptual stupor until something emerges that shifts everything. Paying attention to what is a familiar way of working and what is in fact emergent is part of the practice.
This kind of vigilance resonated when I read a recent article in the Harvard Business Review called Understanding "New Power", by Jeremy Heimans and Henry Timms. It's worth the read in its entirety but here is one passage that spoke particularly to me.
A much more interesting and complex transformation is just beginning, one driven by a growing tension between two distinct forces: old power and new power.

Old power works like a currency. It is held by few. Once gained, it is jealously guarded, and the powerful have a substantial store of it to spend. It is closed, inaccessible, and leader-driven. It downloads, and it captures.

New power operates differently, like a current. It is made by many. It is open, participatory, and peer-driven. It uploads, and it distributes. Like water or electricity, it's most forceful when it surges. The goal with new power is not to hoard it but to channel it.
The old way of working becomes currency by default. All the more reason to lean into what is more a current, like water or electricity. And of course the idea of being a channel is right in line with my way of seeing and making.